Facebook is now asking me what sports I like? What bloody sports I like? (proceeds to show some asinine list of football/soccer heraldry etc.)

I feel I am being insulted. And the fact that they somehow assumed I liked sports. And there doesn't seem to be a 'sod off go away I am not dignifying that with an answer' so I am just letting it hang, ignoring it because clicking anywhere near that would mean I somehow like sports.

Deities. It is being such a nosey thing. Asking me if I like this and that. But the sports thing insulted me the most.
Member




Posts

: 24


Join date

: 2013-11-15



But you're male! And being male automatically means you like sports! What's wrong with you? Are you gay? Because there definitely aren't any gays in sports! Nope!
_________________
FORUM RULES
I Hate Sports. Bringing you the truth... no matter how bad it hurts.
Love and Tolerance!
Site Administrator





Posts

: 170


Join date

: 2012-12-24


Age

: 34


Location

: Glasgow, Scotland



Brian Sims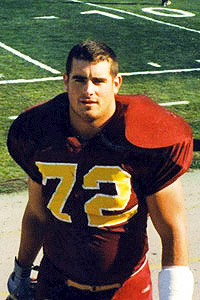 "Hey, wait a minute!  I'm gay!
Esera Tuaolo
"I'm gay, too; and I once played in the Super Bowl!  You got a problem with that?"
Michael Sam
"Hey, guys, what about me?  Wish me luck this fall!"
_________________
"You beat a woman and drag her down a flight of stairs, pulling her hair out by the roots? You're the fourth guy taken in the NFL draft. You kill people while driving drunk? That guy's welcome. Players caught in hotel rooms with illegal drugs and prostitutes? We know they're welcome. Players accused of rape and pay the woman to go away? You lie to police, trying to cover up a murder? We're comfortable with that.  You love another man? Well, now you've gone too far!" -- Dale Hansen, Dallas sports anchor for ABC local affiliate WFAA
Moderator





Posts

: 628


Join date

: 2012-12-26


Age

: 68


Location

: somewhere in space and time





Similar topics
---
Permissions in this forum:
You
cannot
reply to topics in this forum